FluidStance

The Plane Cloud
Balance Board for the Standing Desk

CHALLENGE
The human body does not fare well when sitting in a chair for 8 hours a day. Standing to work is far more beneficial, but it can still allow posture problems, an aching lower back, and stiff knees and ankles. The Fluidstance Plane® Cloud was conceived to enhance the benefits of a standing desk by keeping the legs and lower body in motion without being a distraction. Lifestyledesign was asked to advance this fundamental concept utilizing 100% recycled materials.
APPROACH
Lifestyledesign conducted extensive research into 1) the market, 2) applicable recycled materials – rigid for the base and softer for the platform and 3) relevant human factors and ergonomics. This process informed the design development phase through an iterative series of prototypes and concept sketches. CAD development and prototyping was advanced in close cooperation with Fluidstance engineering, relevant materials suppliers and tooling & manufacturing suppliers.
RESULTS
The Plane balance board exemplifies how the use of considered, sophisticated design can encourage healthier work routines and enhance sustainable practices through the utilization of recycled plastics and product longevity..
PRODUCT DESIGN | CMFG | MANUFACTURING
MEET "THE PLANE" BY FLUIDSTANCE
It features a carefully engineered, 360-degree-tilt geometry deck, with a smaller footprint. Stand comfortably for longer on the Plane Cloud's cushy, textured foam top. Your natural micro-movements on this board will strengthen and stabilize your body, soothe stiff joints, burn calories, and keep you awake and alert — even through the overwhelming urge to curl up under your desk after lunch.
STAND
Burn calories and be more productive. There's just enough wobble to keep you burning calories — but not so much that it's distracting. .
BALANCE
Practice your balance skills and have fun at home or in the office. The Plane balance board can add a new level of challenge to daily activities.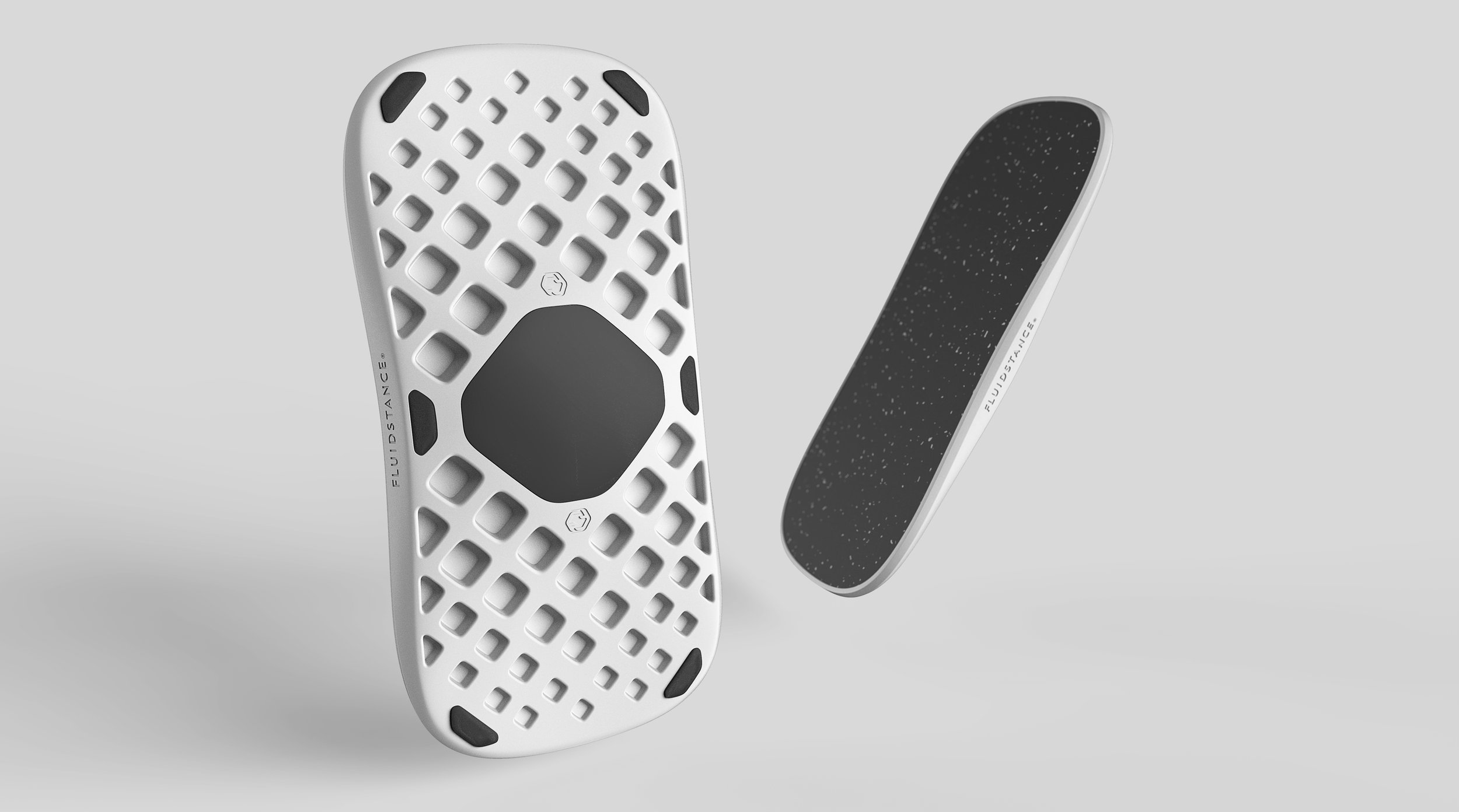 DESIGNED WITH SUSTAINABILITY IN MIND
Using disruptive innovation to inspire change and create tangible positive impacts on people and environment.the Plane is made fully of recycled materials—with a 100% post-industrial high-density HDPE base, and a top deck made of recycled low-emitting rubber tires, creating profit from materials that would otherwise be considered waste!
EXPLORING THE NEXUS OF SUSTAINABILITY AND FITNESS
A HUMAN CENTERED DESIGN PROCESS